Advanced multi-platform big data collection solution on the market
data collection solution Tornado
In a traditional database (DB) environment, the data is generated in an application and DB's front end, instead of being imported from outside and from processing initiates. Meanwhile, in big data, the data is brought in from outside and from the processing initiates, instead of being generated internally. The data processing starts from the data collection in the big data environment.
The Data Collection Solution by Saltlux has the ability to crawl on multiple platforms, collect big data based on RSS, deep web, metasearch, social networks, and Open API.
What is the Data Collection Solution Tornado?
The Tornado Data Collection solution can be applied to business processes, helping businesses improve business efficiency
Saltlux Technology's Tornado data collection solution is capable of cross-platform data collecting based on RSS, deep web, metasearch, social networks and OpenAPI. It also provides the functions of operating, simulating, scheduling, monitoring operating status, etc.
Social network data collection function
Scenario-based Data Collection function
Deep web collection function
Metasearch collection function
Open API-based collection function
Operation management function
Management feature per collection target (project)
Definition of collection tasks

Activities performed by users on the internet (input, click, search, etc.) are collected and stored by collection rule.
Preview on simulations and results

The ability to preview the results to see if the rules set by implementing simulation perform properly.
Implementing collection engine

Collect and store web data based on defined rules by implementing collection engine.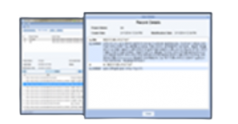 Verifies the results of informal data collected from the web as semi-formal/formal data through workbench.
The main control screens of the Tornado data collection tool.